Product Design & Modeling [VII]

All drone designs are conceptual designs for training and fun purposes only, we do not engage or support any military or hostile activity of any kind and most UAVs below may not be realistically applicable or able to fly, just sit back and enjoy the technical details, mind that we tried as much as possible to abide to the laws of physics and some aerodynamics..
More photos and close up details can be viewed at: FadiTECH / FTAV
---
Tactical Long Range Drone Concept (TigerShark Endurer)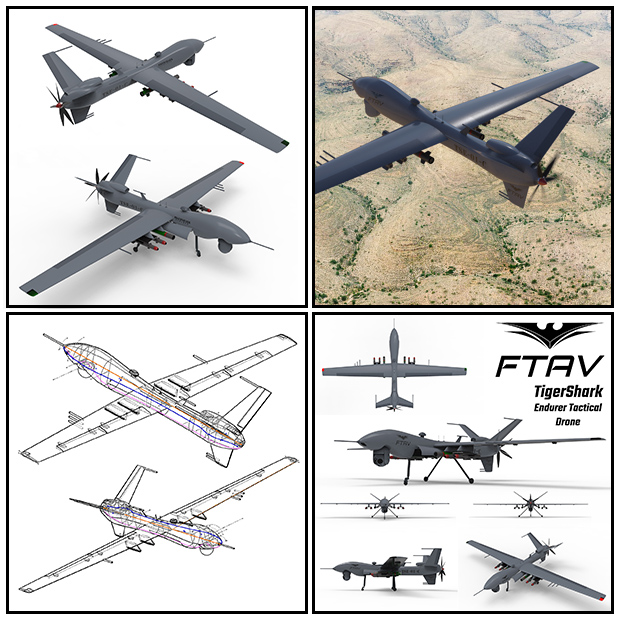 A long range tactical drone concept with a wing span 16.1 meters and total length of about 10 meters. Designed in actual 1:1 scale. This was our first drone design attempts, so excuse the flaws.
More at: Behance »
VTOL Logistics & Support Drone (WASP-052 VL)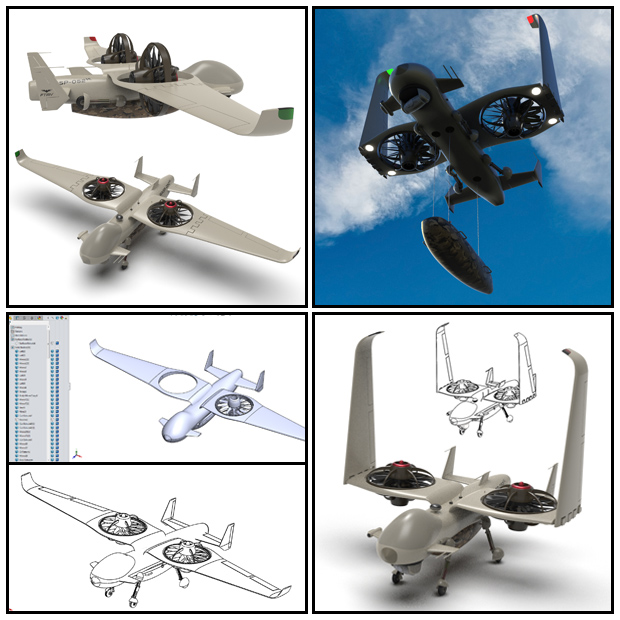 This VTOL (Vertical Take-Off & Landing) Drone carries no weapons at all, but instead it carries a chest that can be lowered and lifted to support forces behind enemy lines.
More at: Behance »
Surveillance & Defense Drone (SPECTRE /OE)
This drone is equipped with 8 downward looking cameras for more than 270° field of vision, best suitable for surveillance of shorelines and open desert areas and defense against sea and ground threats.
More at: Behance »
Fast Attack Helicopter Drone (RACCOON 6 NS)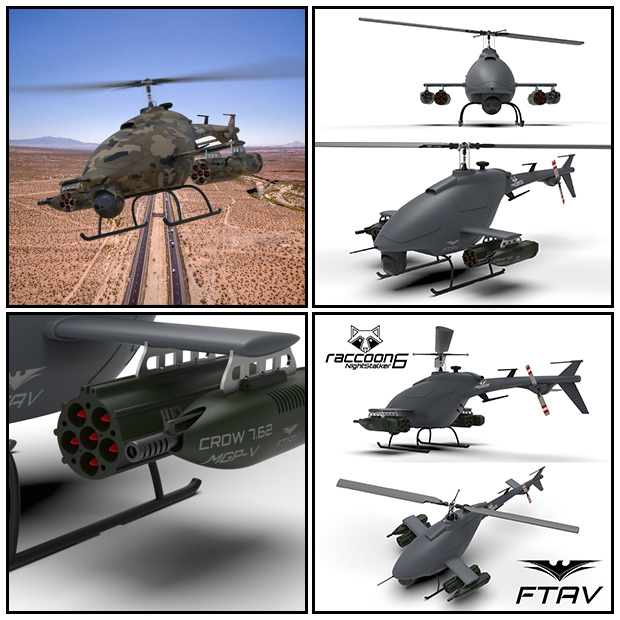 A fast light weight attack helicopter drone equipped with 2 x 6 grenade launchers (not smart) and 2 small caliber machine guns. The body shape is very balanced and aerodynamic.
More at: Behance »
Light Weight Helicopter Drone (COYOTE 7C)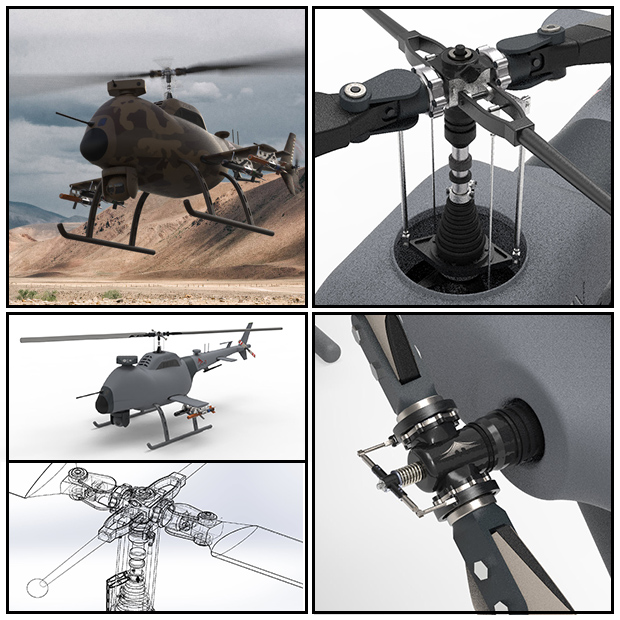 Another light weight helicopter drone with an additional top 360° degrees continuously revolving camera and radar to detect and hunt small suicide attack drones. Hence that both rotors actually rotate & twist (in 3D).
More at: Behance »
Long Range Helicopter Drone (Hyena 8H)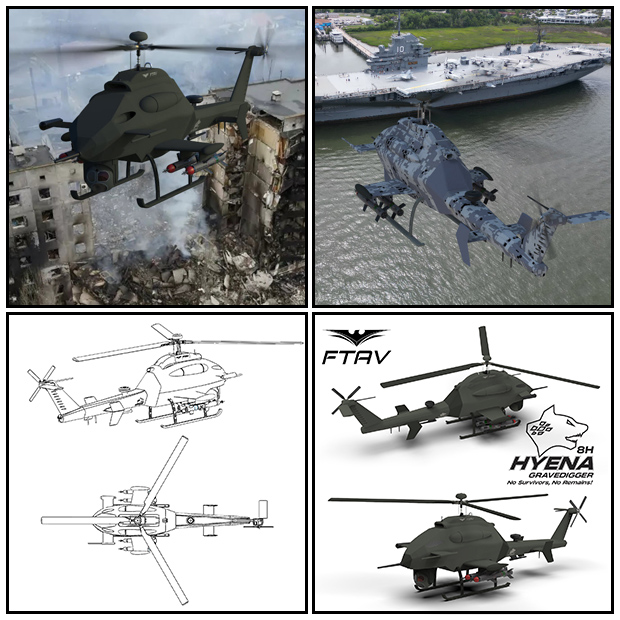 A long range 3 blade top rotor helicopter drone and a taller yet narrow body to carry extra fuel and for clearance purposes as well. Armed with 4 Proteles 1100 ATS missiles.
More at: Behance »
Stealth Drone (Night Sparrow)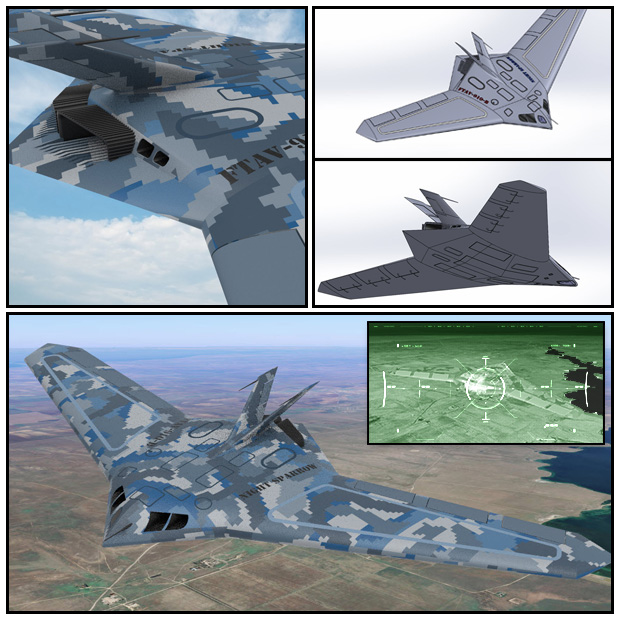 A Stealth-Drone Concept with an innovative "Cooling-Tunnel" feature that channels an additional cold air stream from an additional intake and additional exhausts to cool the jet engine and minimize the heat signature.
Stealth Drone (SIOUX 02)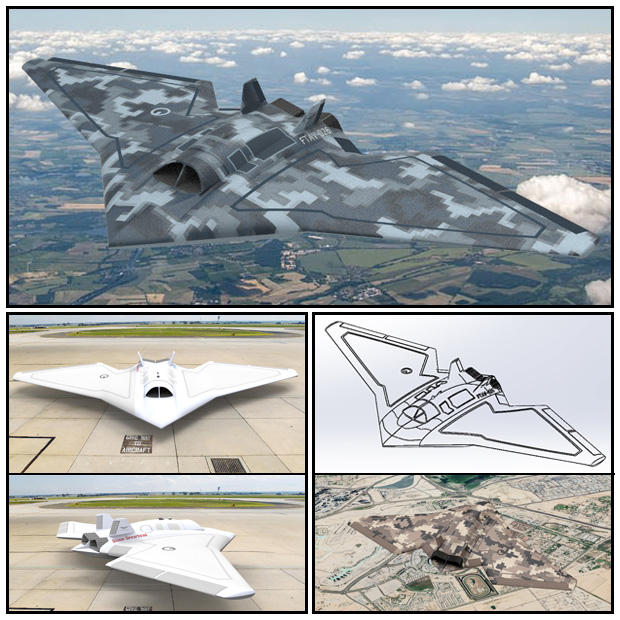 The Sioux is another Stealth Drone Concept that much resembles a Red Indian Tomahawk ax. It features a very low height profile and shorter wing span. Notice the low profile (forward driven) rear tails.