Product Design & Modeling [I]

At "web and media" we excel in 3D design and modeling in addition to 3D Rendering and 3D Visualization of all product types, materials, shapes and functions. From the creation of a new product idea to remodeling an existing product as well as realization of an existing product that is difficult to photograph or almost impossible to properly visualize for advertising or promotional purposes.
From food jars (both glass and plastic), liquor bottles, Polycarbonate & PET bottles, fashion accessories, jewelry, pens & watches, packages, molds, electronics, cosmetics, aluminum cans, household and kitchen appliances, interior decoration items, exhibition stands, etc and all the way to mechanical parts related to automotive, marine & aviation industries, we will 3D model it and visualize it as well as deliver any model in a ready-for-production format such as Solidworks or STL.
---
Jack Sparrow Original Rum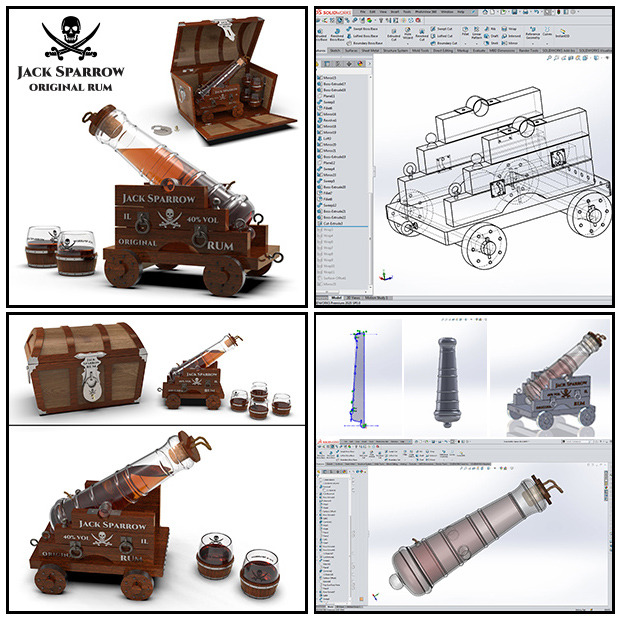 The Jack Sparrow Original Rum features a Gallion's (Ship) wooden cannon carriage with a glass cannon shape bottle, all packed in a pirate's wooden treasure chest with barrel shaped glasses. More at: Behance »
Cognac De Beauvau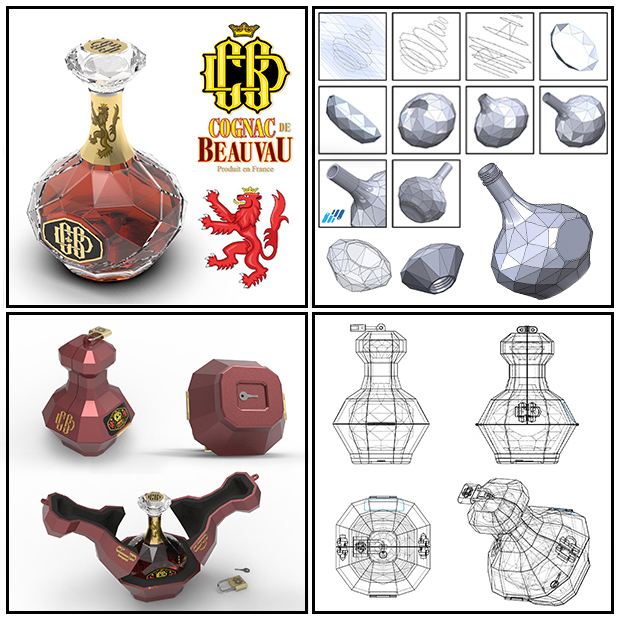 Cognac De Beauvau unique packaging is inspired from medieval face cages. Made of plastic and foam and locked with a pad lock where the key hides underneath attached to a magnet. More at: Behance »
Crucifix Sword Knight's Citadel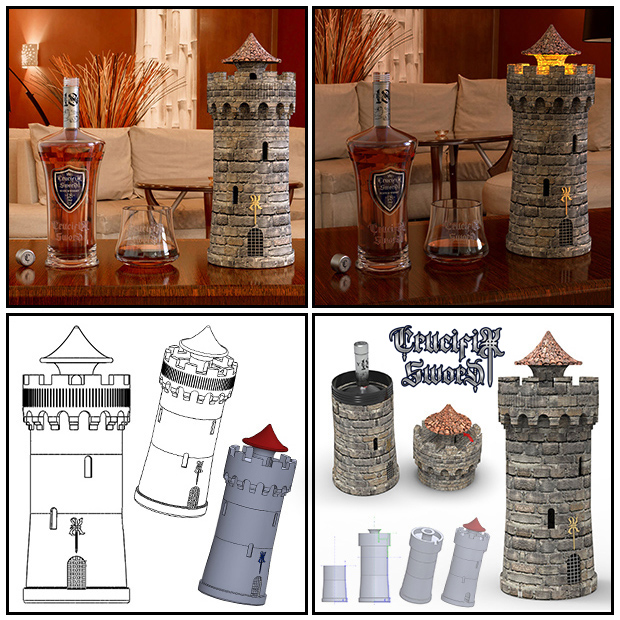 Crucifix Sword Scotch Whiskey enjoys a unique .medieval citadel that unscrews from the top to reveal the bottle, in addition if you push down the roof it lights up as a decorative lantern (Batteries Not Included) More at: Behance »
Marie Antoinette Wine (Gift Box & Shop Display)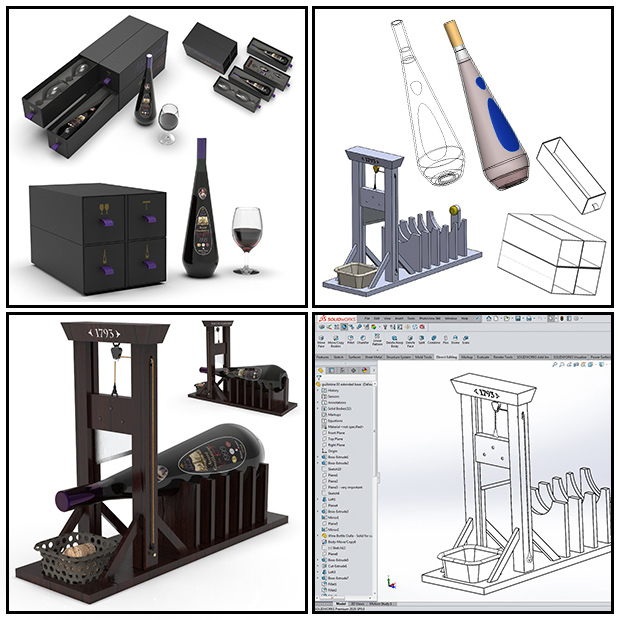 Marie Antoinette Avant Guillotine is another creative design by 'web and media' that features a promotional stand "Guillotine" as a shop display and a 4 drawers gift box of 2 wine bottles, 2 glasses & 5 pieces of wine accessories. More at: Behance »
Queen of Hearts & Jack of Spades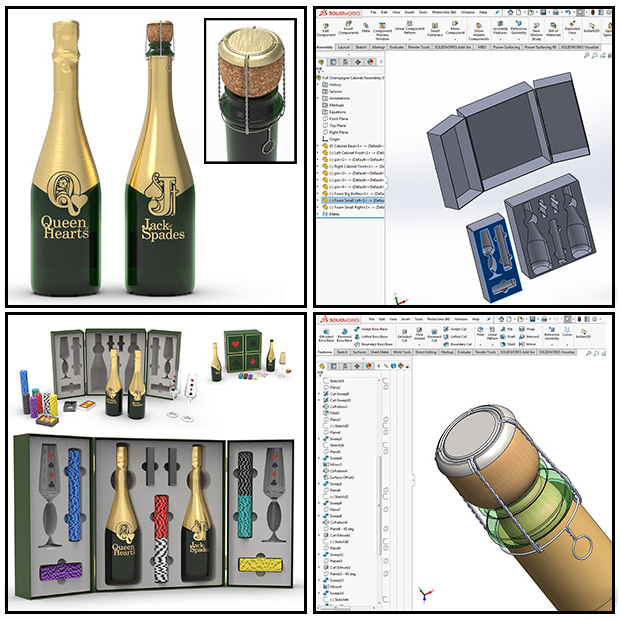 Queen of Hearts & jack of Spades Sparkling Wine (Champagne) set is celebrated in a poker chest set that includes 2 bottles, 2 glasses 2 decks of cards and 300 custom poker chips marked in Roman numerals 1/5/10/50/100/500/1000. More at: Behance »
USvsRU Whiskey/Vodka Twins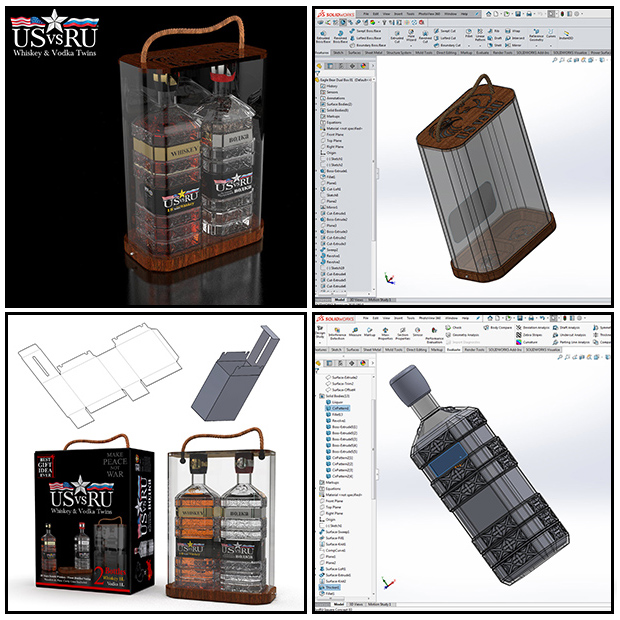 USvsRU package design is inspired from the 1950's Cold War, this is a gift box that you would love to buy and present to whoever invites you to dinner especially if you can't guess their favorite drink. More at: Behance »
Vinomo Wines Tripple Gift Pack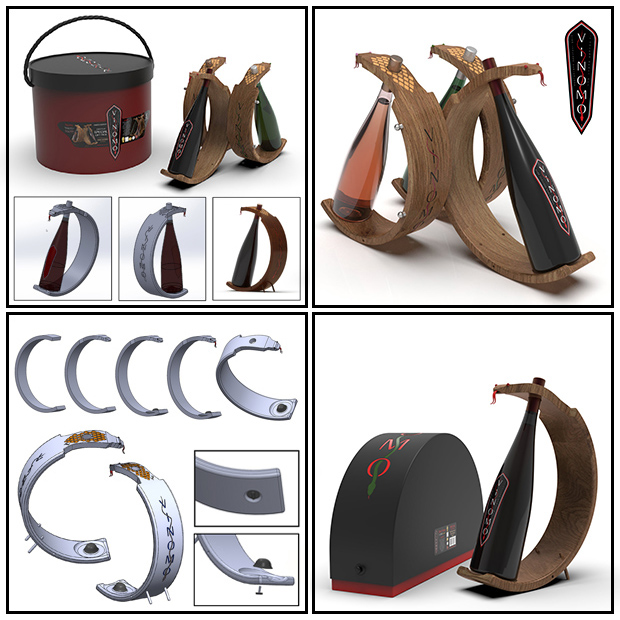 Two fancy wine displays for Vinomo Wines, both features Roman mythical snake(s) carrying a bottle of wine, it comes in single or in tripple, the tripple set carries 3 bottles of Rouge, Blanc and Rosé . More at: Behance »