Product Design & Modeling [V]

Food and Water products design features both glass and PET plastic for food and water respectively. From olive oil, vegetable oil, vinegar, meat / chicken / fish sauces, salad dressing, jam, fruit spread to relish and types of preserved food types require glass containers in many forms of glass bottles and jars. As for water, although Europe is shifting from PET to glass, still the PET plastic design for water bottles is in high demand.
---
Olive Oil Glass Bottle Design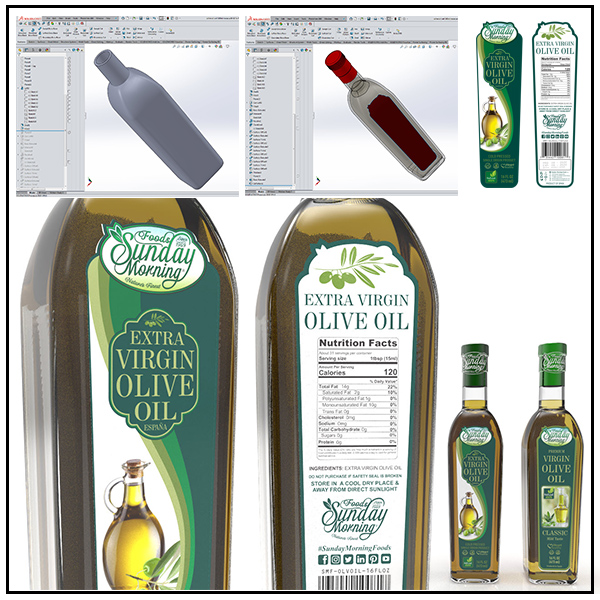 We refreshed the shape of this traditional glass olive oil bottle for "Sunday Morning Foods" by adjusting height, width, glass thickness and volume to suit labeling, packaging, volume and price feasibility.
Vinegar Glass Bottle Design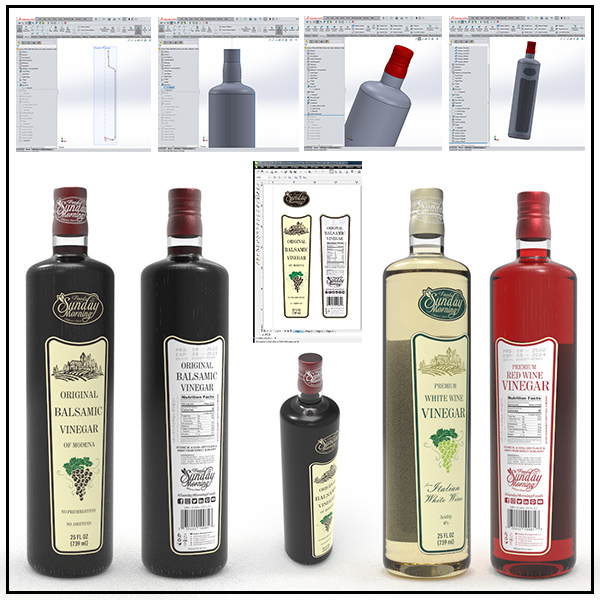 We managed to create a better design & shape than the old "Dorica" glass model for "Sunday Morning Foods" wine vinegar. By adjusting neck thickness, width , total width & height, glass thickness and volume to suit labeling, packaging, volume and price feasibility as well.
PET Plastic Water Bottle (Bastakiya)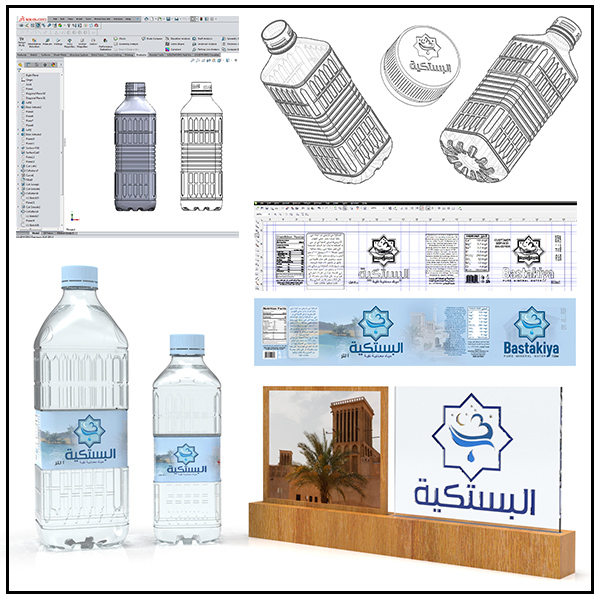 Our client Bastakiya Water required a special cultural design, we suggested to match a common Arabian architectural design of old buildings cooling towers. The Bastakiya towers in old houses acts as a primitive air conditioner, that moves out hot air and brings fresh air to homes.
Plastic Water Bottle Design (Beauvau)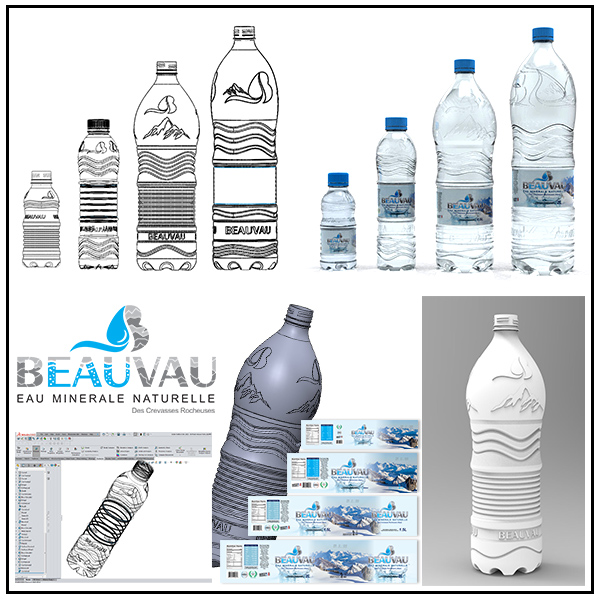 Beauvau Water erupts from the rock crevices of the French Alps and is bottled in 4 volumes of 230ml / 500ml / 1.5L / 2L bottles. We conducted thorough research for the design and virtual stress tests to bring success to this very design.
Glass Sauce & Dressing Bottle Design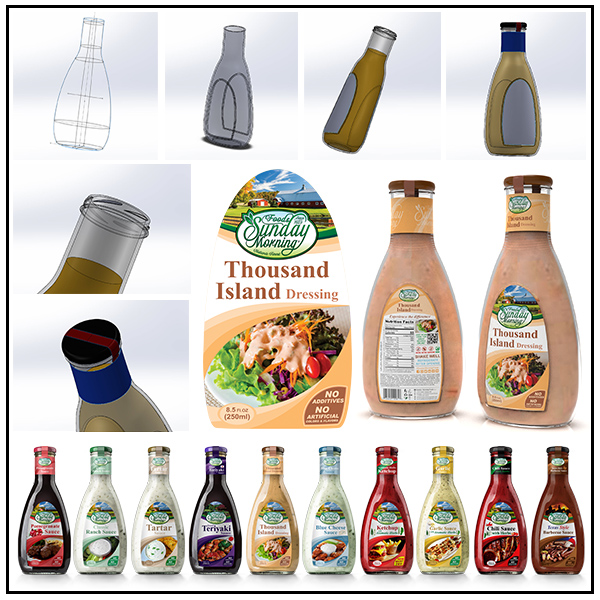 "Sunday Morning Foods" required a unique Sauce / Dressing bottle with custom shape, thickness and volume in addition to other features in labeling and packaging. This bottle proved to be very successful in preserving flavor, handling and storage.
Hot Sauce & Soy Sauce Glass Bottle Design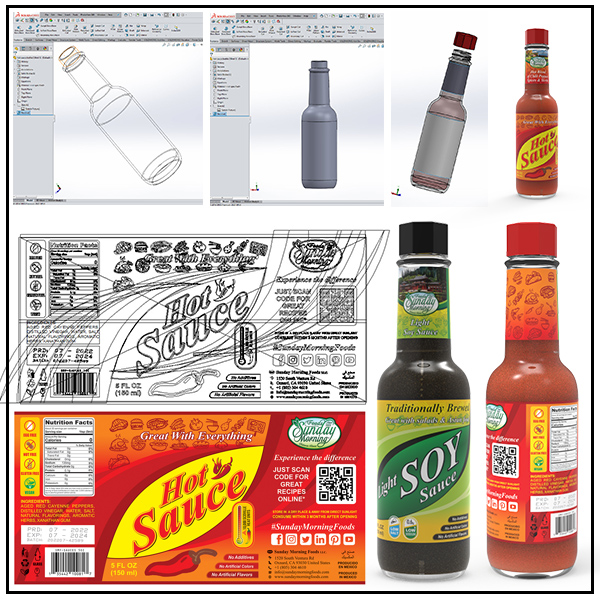 Although this "Sunday Morning Foods" chili and/or soys sauce bottle may look similar to others in the market but it has more volume and we eliminated the accidental tipping over by widening the base and easing on glass thickness.
Special PET Water Bottle Design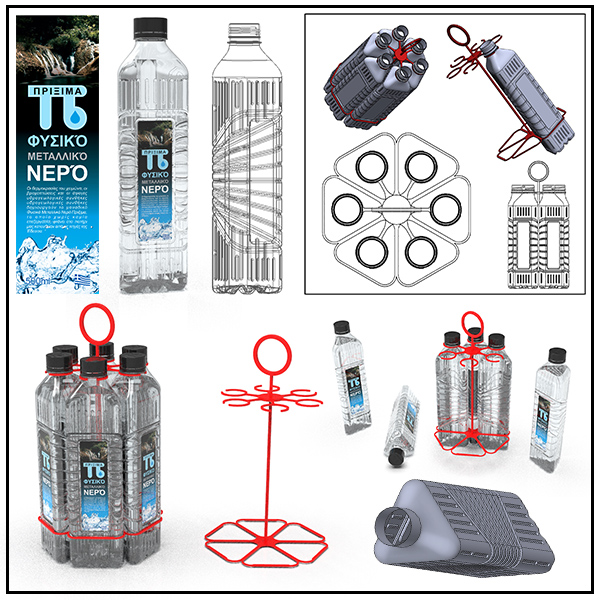 Prixima Mineral Water of Greece approached us with a strange request "Create Something Unique for Us", and we did an innovation that has never been seen before. The picture above speaks for itself.
Jam / Fruit Spread Jar Design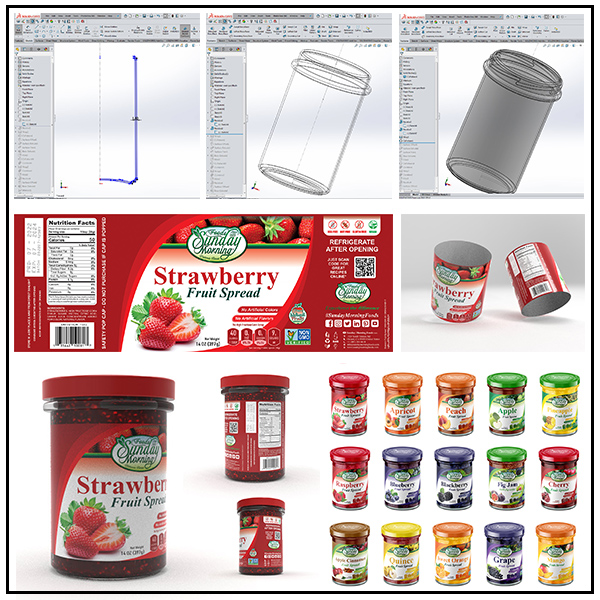 Again "Sunday Morning Foods" required a custom jar for Fruit Spreads (jam), not too small and enough to make several pies and maintain customers' satisfaction as well as allow more jars and flavors to fit on both home and supermarket shelves.