Product Design & Modeling [IV]

Everyone loves watches, although some do not wear them, but if you are a watch enthusiast, you'll probably appreciate a fine design. Each watch we design is based on areal life theme or purpose; from aviation, sports to muscle cars and in some cases to ancient gods.
My personal favorite is the "Strike Master" series as I (Fadi M. Abul Husn) designed it as both a challange and to feed my private passion in aviation. If you notice the red and green beads in the middle of the watch, these represent the navigation lights of an aircraft i.e. Red = Left = Port and Green - Right = Starboard. Moreover, the hands of the watch are exactly like the hands of old aircrafts Altimeter, so Enjoy, and let me hear from you.
Check out our Watch Design Video on YouTube »
---
Strike Master Watches US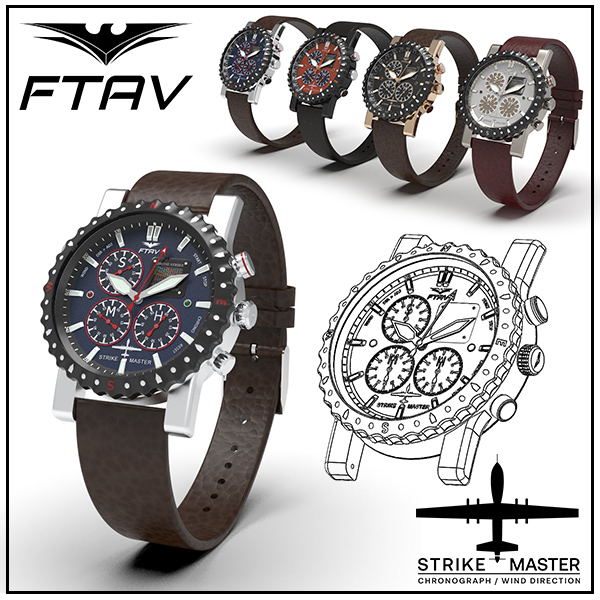 The StrikeMaster is the ultimate Drone Pilot watch, it features an Azimuth & a Wind Direction feature by revolving the inner mid bezel with a left side crown, and by rotating the top bezel as well. Another interesting feature is the long duration chronograph up to 60 hours.
Arctikos Watches EU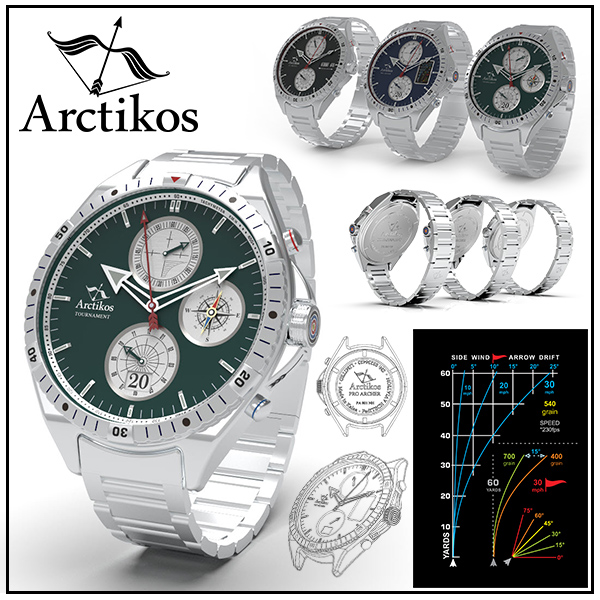 Arctikos watches are dedicated to archery fans and are available in 3 variations: The Classic with an additional day feature, The Pro-Archer bears an imprinted wind table. As for the Tournament model it is with a built in magnetic north compass.
Hellcat SRT Watches INT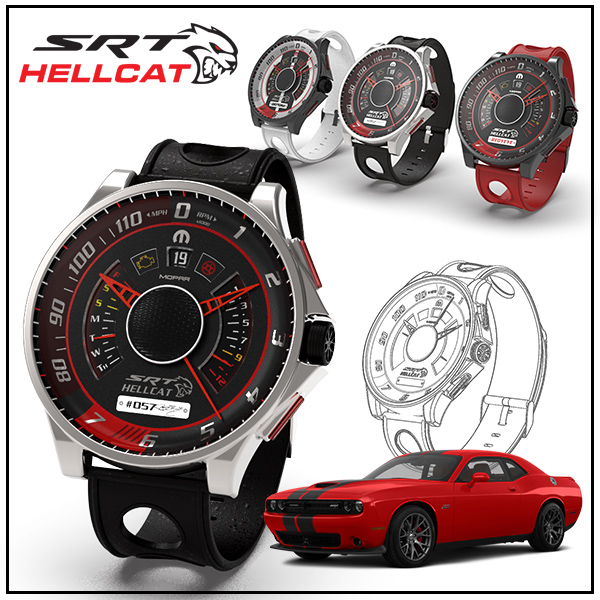 Hellcat watches are a tribute to the legendary Dodge Challenger SRT Hellcat. It features lot of elements from the car, such as identical dashboard, buttons just like the tail lights and the crown is identical to the alloy wheels and many more.
Cedarium Watches LB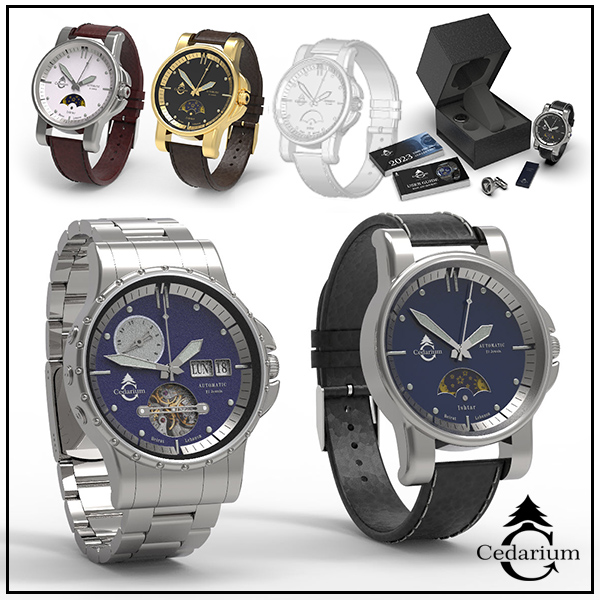 Cedarium watches are mechanical movement / automatic watches and require no batteries. The Baal model features a built in window to view inner machinery, as for the Ishtar models; they feature an AM/PM indicator of Sun and Moon.
MonCedar Watches LB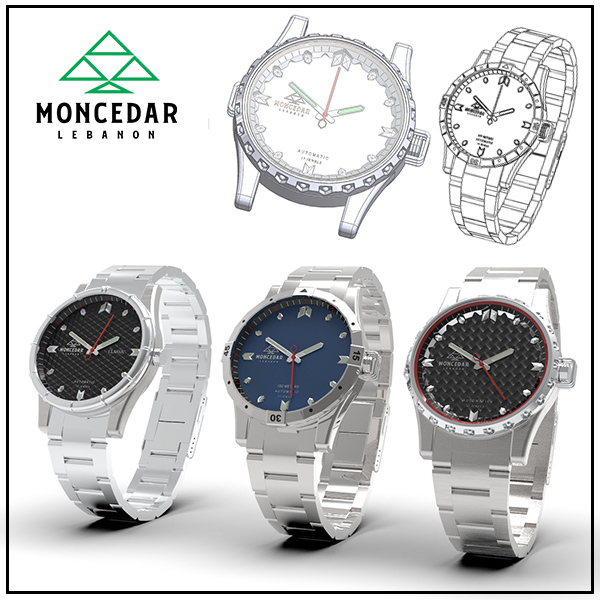 MonCedar watches come in three variations which are recognized from bezel shape and dial elements. Each model; Classic, Jerroud and Suba, comes as well in 4 color variations.
Infantry FS-012 (Simulation Only)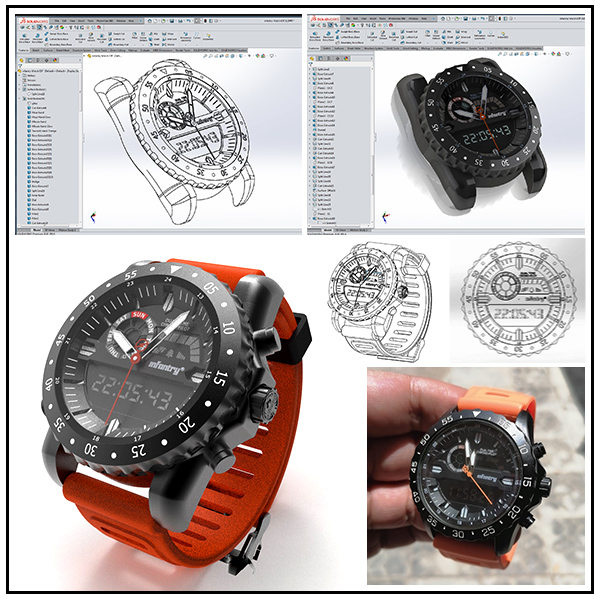 Infantry watches are a well known brand, we did not design this model but we simulated & visualized it based on an existing physical model that I personally own. The whole process was as an exercise and a 3D design trial. The challange was to take accurate measurements without taking the time piece apart, but the most interesting in this project that we created a realistic animation video based on gear ratios 1:60:3600 for H/M/S.
The Caliper (Measuring Tool)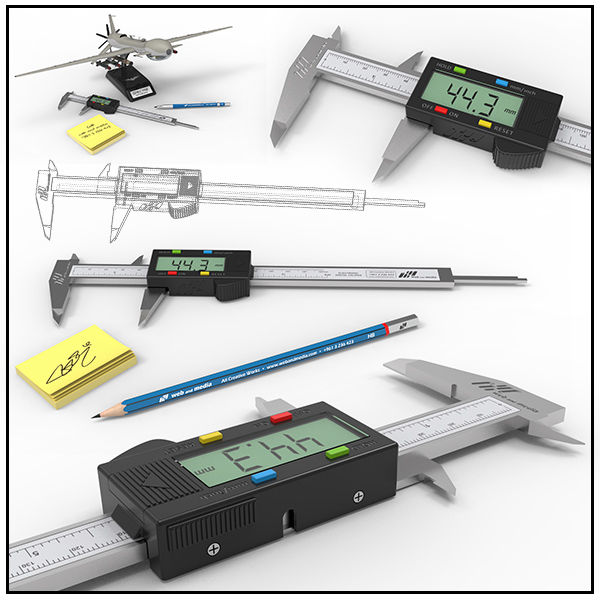 The Caliper, although it does not belong to the Watch Design Section, but no Product Design can be achieved without one in your hand. Moreover when we design minature items we include a caliper in the simulation. Most 3D models we design are accurate up to 1:100 of a mm i.e. 2 decimals.
MTA Size Estimation Tool (3D)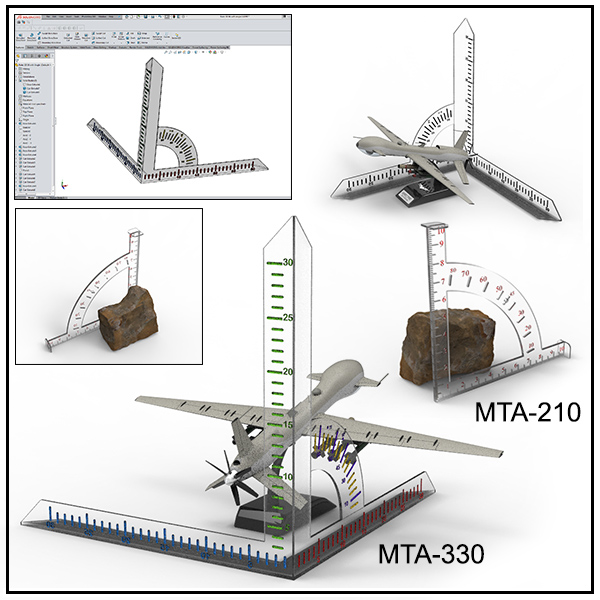 MTA This is just a 3D ruler that we often use when we send along a designed model to a client or when we want to do just a quick visual size comparison. The MTA-330 indicates XYZ & an angular measurement, as for the MTA-210 it is just XY and an angle.