Our Credentials
We believe that every great deed is rewarded, if not financially then probably morally. As the deeds add up, they become returns on investments and referrals for new business.
With over 600 clients served so far, our work speaks for itself. The loyalty of most of our clients is beyond impressive due to the great trust they embed in the quality of our services, delivery time and feasible rates.
---
Our Profile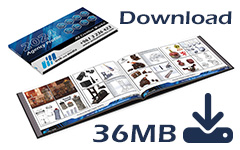 Please feel free to download our profile to know more about us, explore our services and view our portfolio.
The profile is available in Adobe Acrobat® PDF format and about 11MB.
Download Our Profile
Note: You may favor to Right-Click the link above, and to Save it to your desktop.
You may preview as a flip album
Download also available at:
---
Testimonials
What clients say about "web and media" & "Identity Dubai".
Go to Testimonials
---
F.A.Q.
Please check our Frequently Asked Qustions Section for commonn questions asked by our web visitors.
F.A.Q. Section
---
About Us ( in Arabic)
If you prefer to read about "web and media" in Arabic, there is a brief section.
إذا كنت تود أن تعرف المزيد عن "وب أند ميديا" وبلغتك العربية إتبع الرابط التالي:
نبذة عن "وب أند ميديا" بالعربية
Our Clients
---

Our clients are one of the largely priceless assets that we value the most. We are very proud with our references that have amassed through the years. As a means of gratitude for their trust in our capabilities and appreciation of the long term relationship, we tend to thank all and promise to continue with our services as efficient, creative and as timely as ever.
Lebanon (Alphabetical Order)
Accaoui Jewelry
Adaimy Studios
ADC
ADP
Akaria Co. sarl.
Alexco
Al-Jabal Travel
Alma Water
Ambar Establishment.
ANID Emballage
AquaMedics
ArteCasa
Azar Electric
B.I.S.
Beyond Tech. (Lebanon)
Cave Kouroum
Cedars Rent A Car
Challenge Air
COGIM
Dar Al Handasah
DHL Techno Power (Lebanon)
Dr. Paul Yazbek
EIJACO
Ejjeh Group
Emaco s.a.r.l.
ERGA Group
Evercool / Coolcubes
Exclusive Café
Exclusive Technologies
First Baptist Bible Church
FTC
GECC
GK WIRE
GM Habis
Hadath Eastern Lions Club
Higher Metn Lions Club
HIMC
Honey Hosn Art Gallery
I.Network
ICS
IE Communication
Illusions Interactive
IRWA
ITAPLAST
Jacteco Mechanical
Jamal Aboul Hosn
KM Int. - Health Tourism
LebHost
LEBinfo
Liban 2000
Libancom
LiL - Live in Lebanon
Linfra
Lions Clubs - District 351
Manalco
Middleeast and Africa Bank
Mirna Jurdi Beauty Center
Mixat Nuts & Spices
MultiTenders
Mymouné
NetLink
Palm Beach Hotel
PCS
Phoenix Pictures Int.
PineLand
Pixel Software
Profiles Software
RIMG
Rois Du Bois
Rotary Club of Upper Metn
Shahd Rent A Car
SMS Computer
Soukna
Specialty Voice Center
TAC
TASK Ltd.
The Four Stars Hotel
Triple C
Tusnea (Lebanon)
ZAK Mechanical Construction
U.A.E. (Alphabetical Order)
2XL Furniture & Home Decor
Advanced Data Solutions
Al Ghandi
Al-Basateen Properties
Al-Habtoor
Al-Hanoo
Al-Nabooda
Al-Suweidi Engineering
Al-Yarmouk
American Excellence Medical Center
Beyond Events Management
Car Accessories House
Chescor Capital
Desert Adventures Tourism
Dubai Dolphinarium
DU
Elite Dome
Emirates NBD (Bank)
Etisalat
Galadari Group
Gardens Trading DMCC
GCC net
Goldstar Trading DMCC
Grand Stores (Nikon)
Hamriah Free Zone
High Society Real Estate
ICL Inspectorate
IMC
Intragulf Group FZC
Ishraqa
Jadaf Dubai
Jamal Al-Ghurair Group
Lagora Investments
Majed AL Futtaim Group
Mace Group / Mace Macro - Emaar
Marina 101 Residence
Megamall (Sharjah)
Megamart (Sharjah)
Mini Yum Yum
Mubarak Marine
National Auto - GMC
Omnes Media
Original Real Estate
Parasol Garden Furniture
RAK Bank
Real Pilates
Reef Real Estate Investments.
Right Communication
Right Communication Advertising
Rixos Hotels
Securities & Commodities Authority
Sirius International Trading
Smartrack
SMC - Sanitary Materials Co.
Tejari
Twofold Real Estate
UNAR Aero Fuel
United Industries
Viewtec
Voglia
Saudi Arabia
Al Fares Holding (9)
Al Fares Trading Co. (FTC)
Alfaljan Holding
Bin Laden Group
Beyond Travel
JAL Industries
Other Arab Countries
AD City (Kuwait)
Exen Group (Kuwait)
NKYM (Kuwait)
Bekker Maccos MRC (Oman)
OSHA (Qatar)
Qatar Foundation (Qatar)
Blue Nile Trading (Sudan)
Cevital (Algeria)
Bait El Mal (Mauritania)
USA
Apex
Bright Books
CorridorTech
Deoshop
Devisinc
Dynamic Design
General Motors
HCF Trading
Individual Investor
Mancini Alkateeb
Maypole Transport
Paladian Technologies
Royal Spa
SPA Club
Steel Creek Developers
Straight River Sports
UK
Abraxas Capital
Al-Dar Restaurant
Arab Satellite Systems
Chescor Capital
Coastline
ConnectSat
Fallow's Plantation
LOE
Orient Quest
VIPnet
Water Wonders
Europe
Consult It (Germany)
Flink (Germany)
Online Market Platz (Germany)
Sussane Bruner (Germany)
360 Orientation (Switzerland)
e-stats (France)
Pronergy (France)
Logra Real Estate (France)
Pibitz (Austria)
Bessentials Group (Austria)
Casabellissima (Italy)
Zalengo (Italy)
MEI (Cyprus)
Faraway(Belgium)
Orix International (Czech Republic)
Vision Mall (Bulgaria)
Other Countries
Master Medic (Canada)
Evernia Holding (New Zealand)
Evernia Group (New Zealand)
RISK (Azerbaijan)
ADS Systems (Azerbaijan)
PlastMaster Trading (Turkey)
The Gate (Turkey)
JJ Drinks (Singapore)
Telecom Global Specialties (Nigeria)
ii - innovative industries (South Africa)
Barclays Bank (International)
Affiliated
Nestle (UAE / Switzerland)
LG (UAE/Korea)
Samsung (UAE/Korea)
Philips (UAE/EU)
Tissot (UAE/Switzerland)
HP (UAE/USA)
Huwawi (UAE/China)
HTC (UAE/China)
Seattle i-Tech (UAE/USA)
Starphone (UAE/China)
Sungate Capital Partners (UAE/Hong Kong)
AL-JASR Trading (Turkey/UAE)
Maras Turka (Turkey/UAE)
Voglia (UAE/Denmark)
Fine & Country (UAE/UK)
FINEX (UAE /UK)
Barooda Bank (UAE/India)
Geely (UAE/China)
Top of the list