3D Design & Modeling [II]

The 3D designs below are mostly conceptual designs that have not been executed but are interesting enough to exhibit here.
---
Glass Sauce / Dressing Bottle 3D Design & Labeling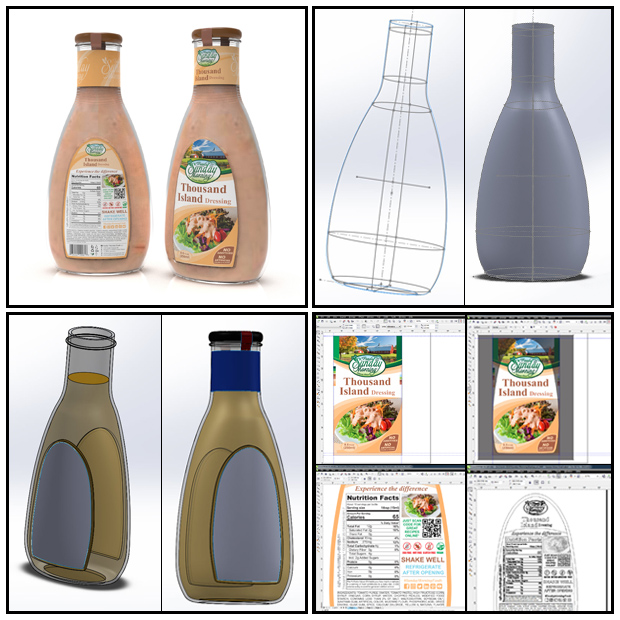 Creation of a 3D Sauce / Dressing (8.5 Fluid Ounces) Bottle for Sunday Morning Foods from scratch. The project included the 3D Glass Bottle Design and Label Design including a neck sticker overlapping a security sticker seal. The label area of the glass is pushed inwards by 2mm to avoid scratching the label.
Strawberry Jam 3D Jar & Labeling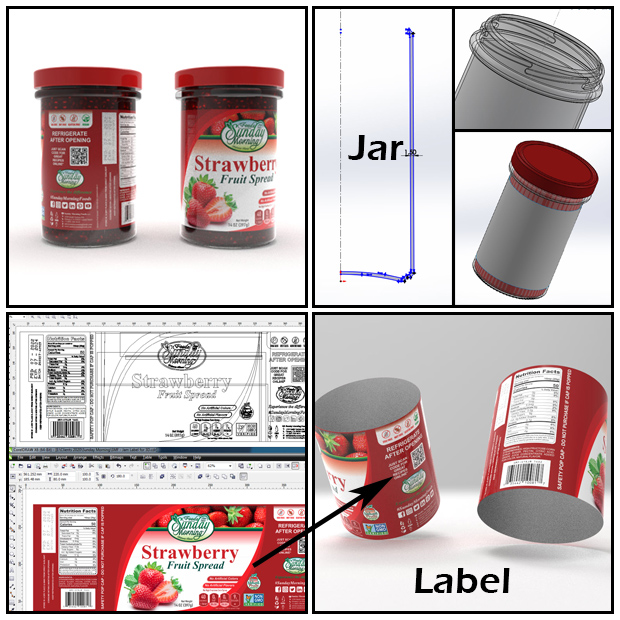 Starting from a single closed and continuous line in Solidworks, creation of a label in Corel Draw, and editing Strawberry photographs in Adobe Photoshop, we created a shelf-ready product visualization for Sunday Morning Foods.
3D Wine Vinegar Bottles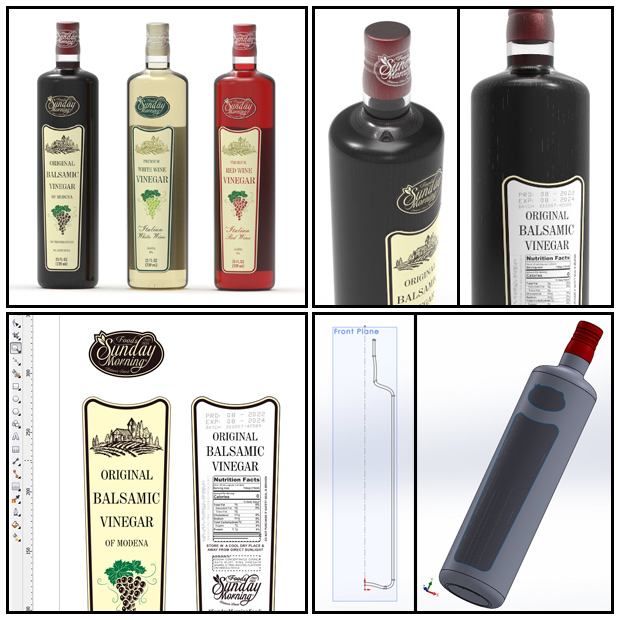 The 3D design of a glass bottle from scratch and the creation of traditional sticker labels, to rendering the product later on to exactly match the liquid contents color is what we excel in doing at "web and media".
3D Custom Shape Olive Oil Bottles & Labels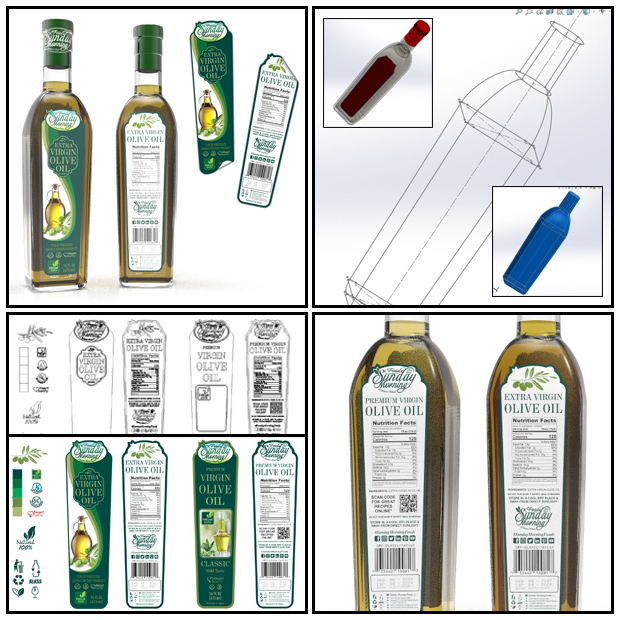 A custom shape bottle and custom shaped labels for Olive Oil. As shown in the 3D sketches above [Top Right], the bottle has a unique shape starting as a square and ending rounded up. The Olive Oil Bottle volume was meticulously adjusted to hold 16 Fluid Ounce (~475ml) and taking into account the glass thickness as well.
Hot Sauce & Soy Sauce (5 OZ) Bottles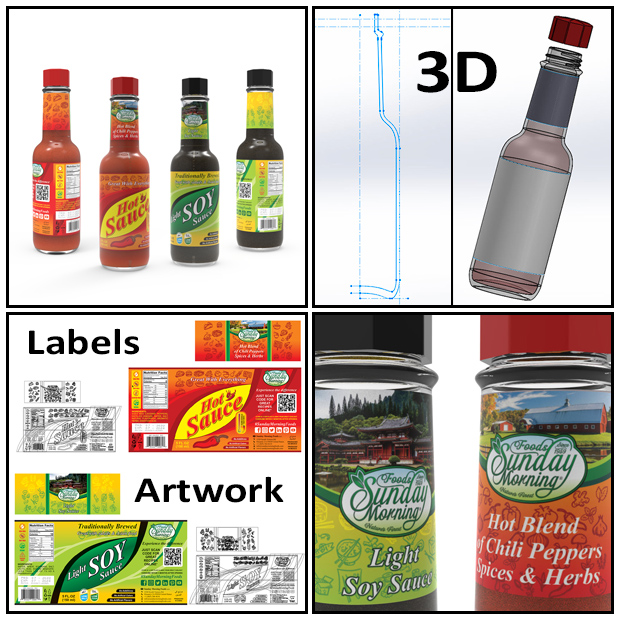 Although the bottle is somehow a generic design, but the label is a master piece that belongs to our branding portfolio rather than to 3D Section. Look closely and witness the fine attention to details as well as the themed images of the neck label.
PET Oil Bottle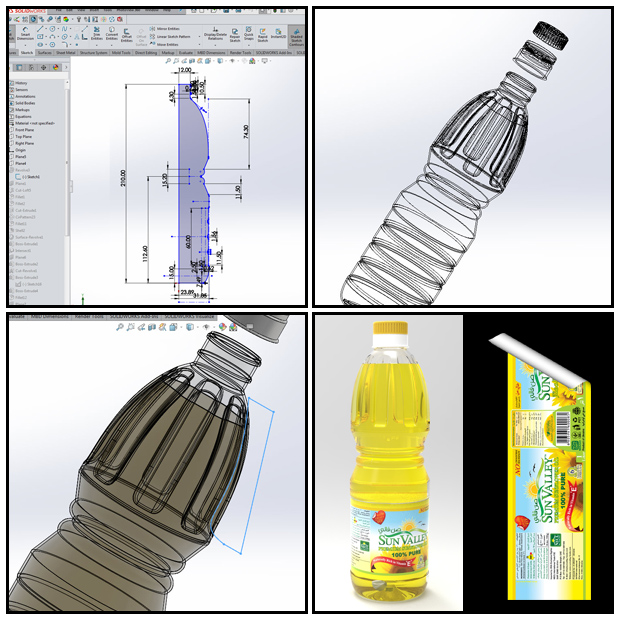 A regular PET (Polyethylene Terephthalate) plastic sunflower oil bottle created for the SunValley brand to be produced and bottled in the Ukraine. The label is designed by Identity Dubai, our sister company in the UAE. The bottle features four major parts, the body, cap base with flow control, the cap and surely the label.
Tequila Long Bottle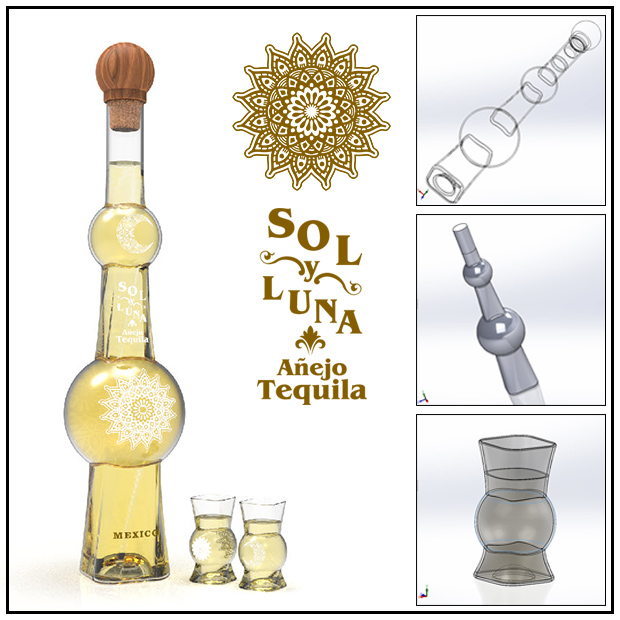 "Sol y Luna" which is in Spanish for "Sun & Moon", Inspired from the Aztec mythology found in the temples of the sun and moon in South America. It features a larger spherical shape (sun) and a smaller one (moon) and stands at a 39.4 cm high.
Don Lucifero Wine Bottle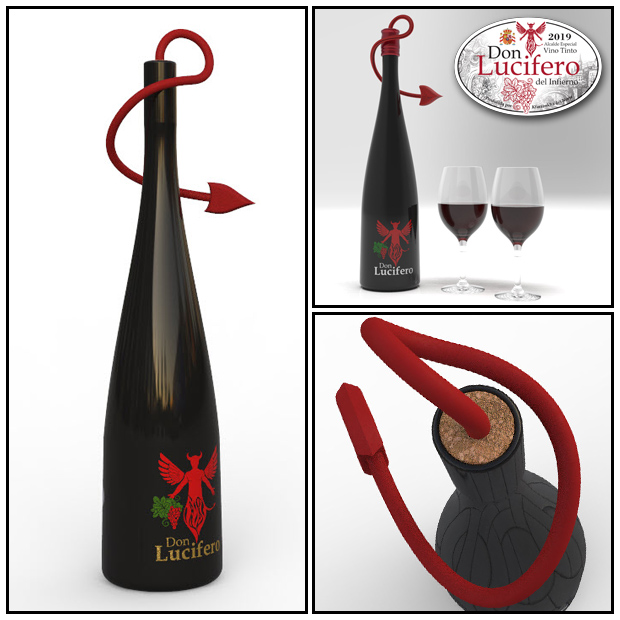 A fun concept 3D design of a wine bottle branded as "Don Lucifero" - The Devil, that requires no cork screw to open, just pull the rubber devil's tale. "Lucifer" is a popular TV series.