3D Design & Modeling [I]

At "web and media" we excel in 3D design and modeling in addition to 3D Rendering and 3D Visualization of all product types, materials, shapes and functions. From the creation of a new product idea to remodeling an existing product as well as realization of an existing product that is difficult to photograph or almost impossible to properly visualize for advertising or promotional purposes.
From food jars (both glass and plastic), liquor bottles, Polycarbonate & PET bottles, fashion accessories, jewelry, pens & watches, packages, molds, electronics, cosmetics, aluminum cans, household and kitchen appliances, interior decoration items, exhibition stands, etc and all the way to mechanical parts related to automotive, marine & aviation industries, we will 3D model it and visualize it as well as deliver any model in a ready-for-production format such as Solidworks or STL.
---
Vodka Bottle Concept (KGB)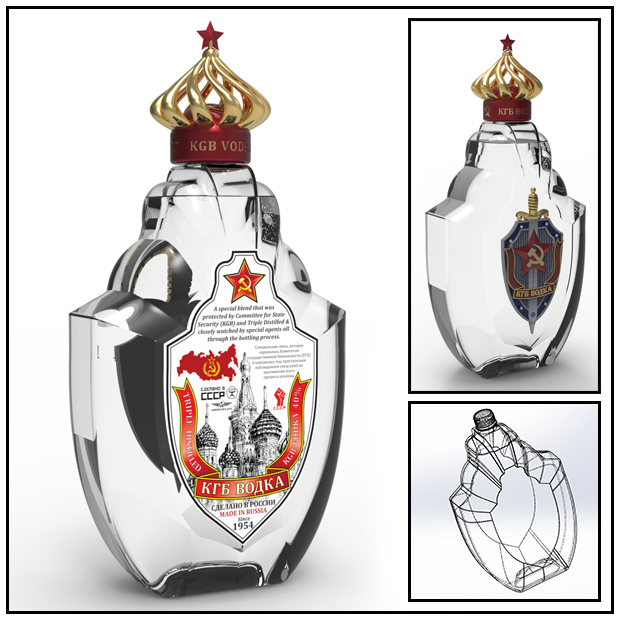 A vodka bottle concept inspired from watching a TV series about intelligence and counter intelligence during Communist era in the Soviet Union & Eastern Europe. Branded as "КГБ Водка" which translates as "KGB Vodka". The bottle features a unique design with a Kremlin based cap and an embossed emblem.
The step by step 3D design process is uploaded to Pinterest at:
Bourbon Bottle Concept (TV Series)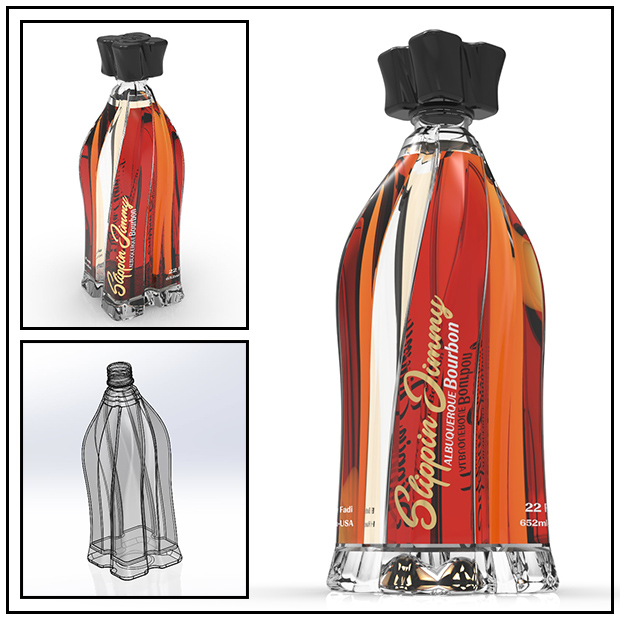 Having loved the TV series "Better Call Saul"; all six season of it and the character "Slippin Jimmy". As most incidents take place in Albuquerque, New Mexico and dedicated to this smart twisted slippery lawyer character full of creative schemes & innovative methods to twist facts and handle matters in an exciting way.
The step by step 3D design process is uploaded to Pinterest at:
Alexco 3D Online Advertising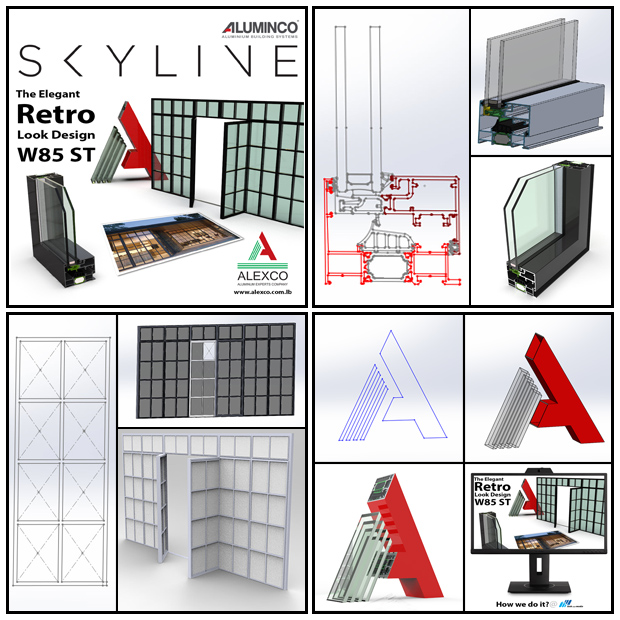 An online advertisement for Aluminum Experts Co. (Alexco) where we created all elements in 3D from basic sketches. The Aluminum profile and logo was re-traced and the glass frame work was created from the aluminum profile. Each element was then placed and rendered to create an Ad customized for civil engineers and architects.
Polycarbonate Water Bottle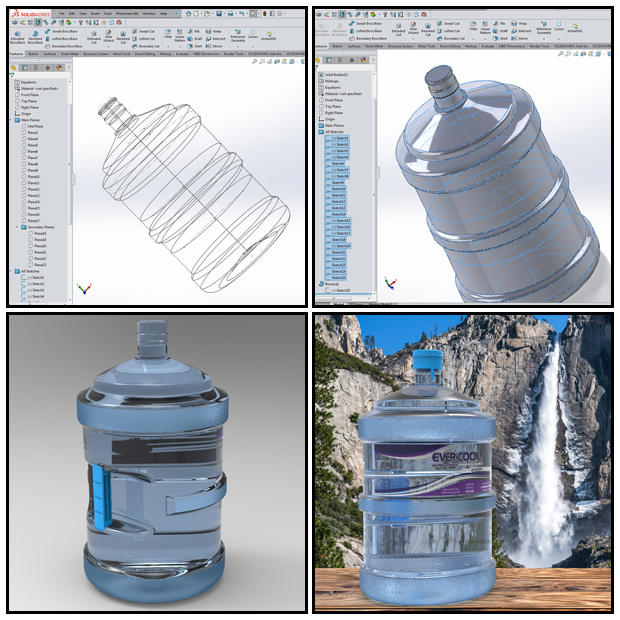 The continuous need for photography of a PC (Polycarbonate) water bottle to be used in regular advertising and branding required the recreation of this bottle. Each time this standard shape is required to pose differently with various labels to be photographed, so why not to create in 3D for for safe keeping and saving on photography costs and difficulties.
Watch: 3D Realization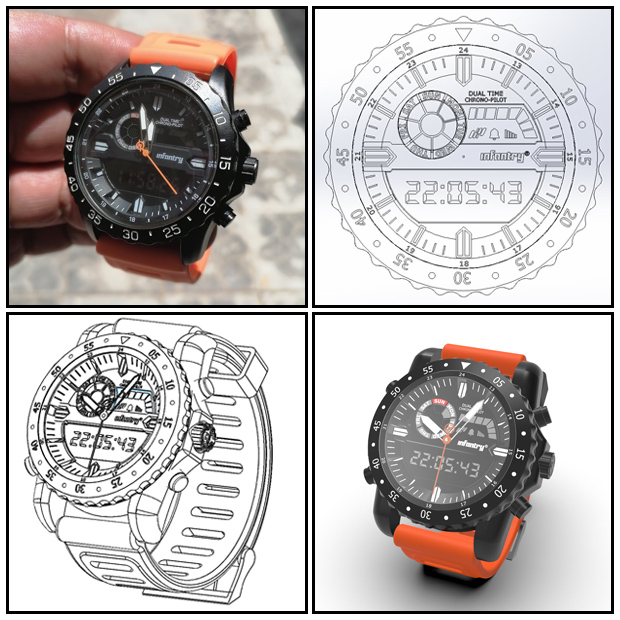 3D Product Realization is by definition: "A Digital method to capture, generate, edit, process and present real world environments and objects. The real watch (Top-Left) was bought years ago, but decided today to create on Solidworks as an exercise. Needless to say it was a nightmare to measure the components without taking this beautiful thing apart, but we did it with a 1/10 of a millimeter accuracy.
Motor Oil 1 Quart Bottle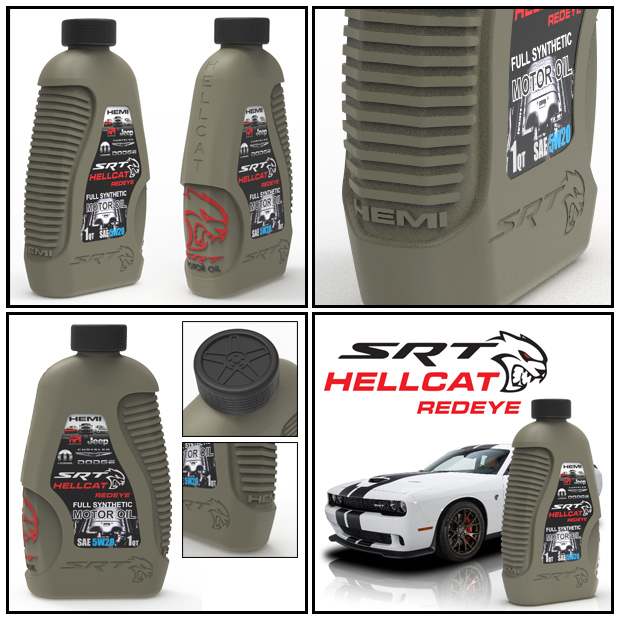 A motor oil concept bottle with special grip features; designed as a tribute to the Dodge SRT Hellcat which has the most powerful production V8 engine ever with a 6.2 liter supercharged HEMI V8 Hellcat engine that delivers a remarkable 707 horsepower and 650 lb.-ft. of torque. The label is a mirror image but with a different layout. Enjoy!
Rum Bottle Concept (Movie)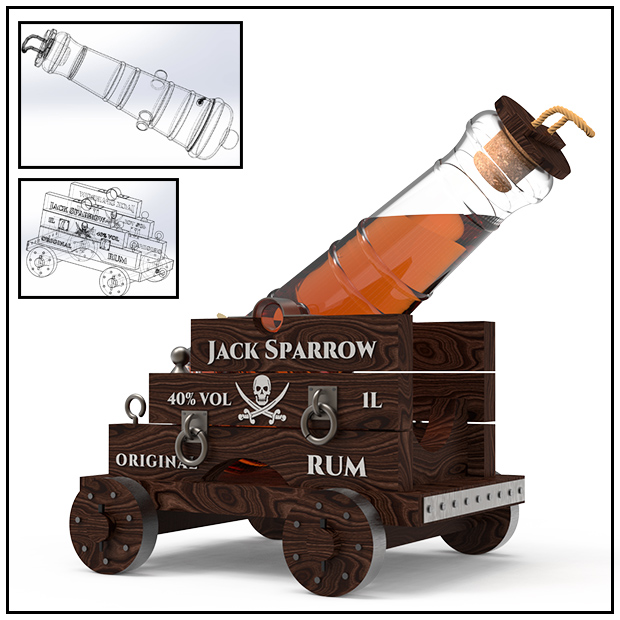 Everybody enjoyed the movie "Pirates of The Caribbean" and who wasn't impressed with the character "Jack Sparrow" and all his funny actions. The above is a bottle of rum shaped as a 24 Pounder Ship's Cannon mounted on a wooden carriage with a proper cork / stopper.
The bottle is fixed to the carriage as it may not standalone, but held with metal fixtures to tilt and pour drinks.
The step by step 3D design process is uploaded to Pinterest at: https://www.pinterest.com/webandmedia/rum-bottle/
Gin Bottle Concept (History)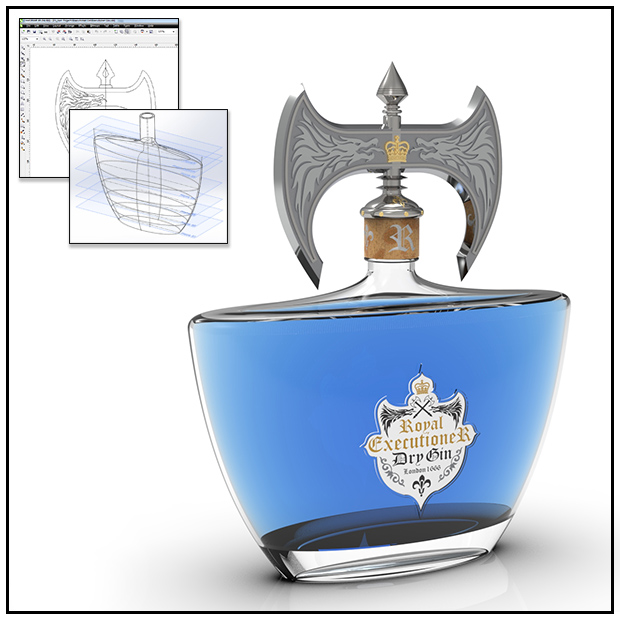 This imaginary brand is named "The Royal Executioner" based on a novel written during the reign of King Charles II in 1666. The bottle features a smooth unique design. We needed to get back to Fadi's old high school math books to revise the trigonometric formulas of Sin, Cos, Tan and Atn as well as Log to calculate the sequence of ellipses and proper elevation to create this smooth yet dynamic bottle shape.
The step by step 3D design process is uploaded to Pinterest at: https://www.pinterest.com/webandmedia/gin-bottle/